正念起修偈   林鈺堂簡繁轉換 - 繁體
萬法皆緣起 因果總不壞
造業陷輪迴 解脫賴修法
人命風中燭 閒暇沙裡金
為息世間苦 死心專念修
跋
弟子海涵請我作偈,以便攝持在拙作〈藏密基本前行要略〉(收在拙編之《密乘初階》書內)中所陳述之拙編之「共同前行」:
深明因果之理
觀察輪迴之苦
理解無苦之樂
實修解脫之法
珍惜修法之緣

因而有此作。


二○一二年二月三日
養和齋   於加州                     
---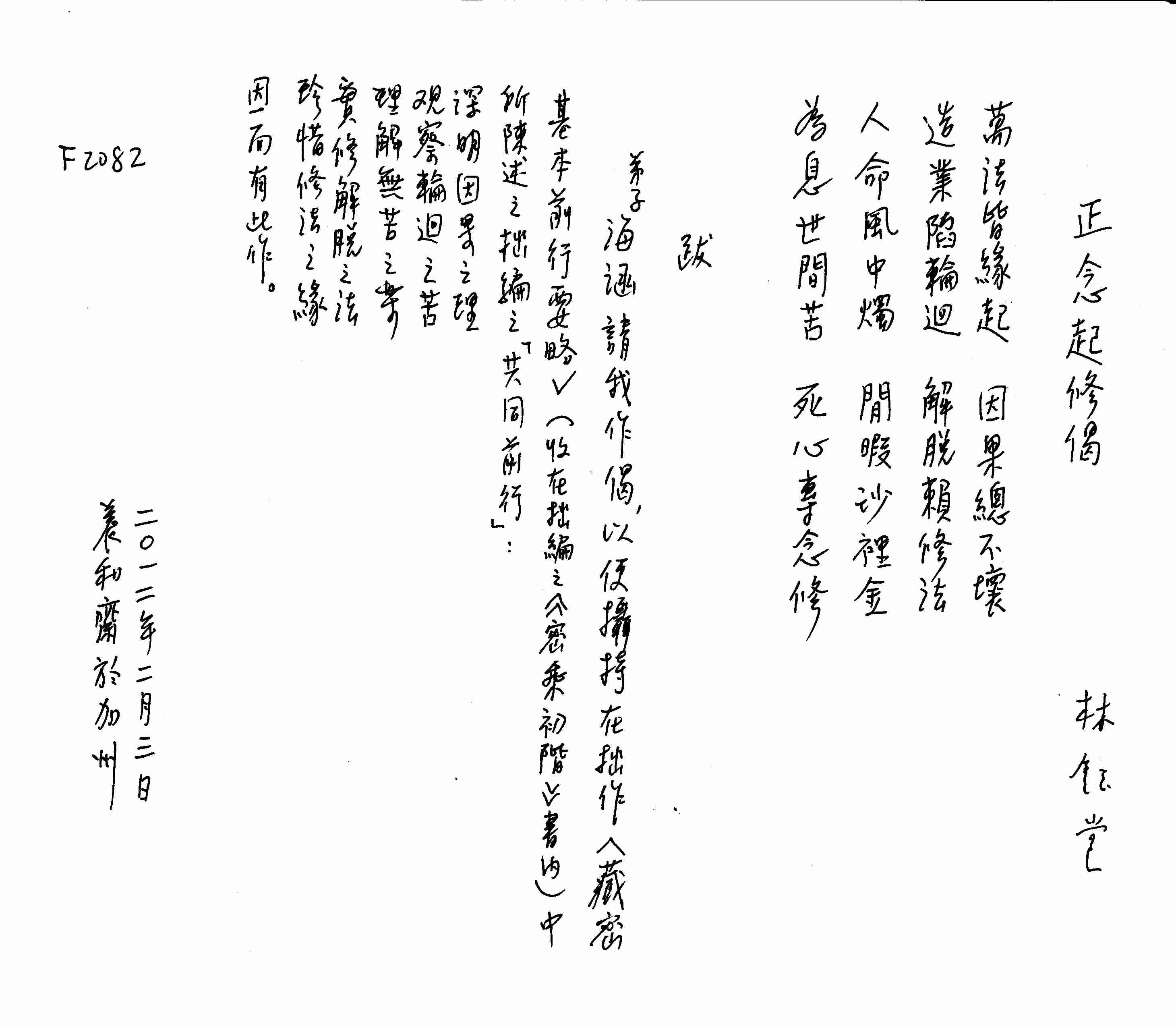 ---
----- Original Message -----
發件人Yutang Lin
發送至Dharma Friends
日期2012年2月4日 上午7:57
主題FW: 前行
Upone request from disciple Hai Han, new gatha attached.
It maybe recited at the beginning of Dharma practice sessions to remind
oneself of the right thoughts that led to this session.
Reference:http://www.yogilin.org/b5files/b0007.html#c2
May all beings attain Enlightenment soon!
Yutang
-----Original Message-----
From: Hai Han
Sent: Thursday, February 02, 2012 4:27 AM
To: Yutang Lin
Subject: 前行
頂禮大恩慈悲 上師父

弟子在做功課時有時會將
上師教授的共同前行(深明因果之理、觀察輪回之苦、理解無苦之樂、實修解脫之法、珍
惜修法之緣)在心中過一遍,有時則忘記了。弟子懇請
上師能否為此前行作偈,以用於前行觀修、念頌。
一切吉祥

海涵 2012年2月2日
Gatha on Right Views to Start Practices
Yutang Lin
All things arise through causal conditions
Causes and their consequences are binding
Creating Karmas one is trapped in transmigration
Emancipation depends on practicing the Dharma
Human life is transient like candle lights in wind
Leisure for Dharma is as precious as gold in dusts
To pacify all sufferings in the worldly realms
Cease all intentions to concentrate on this practice
Comments:
Disciple Hai Han (Comprehensive as Ocean) asked me to compose a Gatha so as to summarize the "Common Foundational Practices" as I proposed in my essay on "The Foundational Practices of Vajrayana: A Summary of the Essential Points" as collected in my book on "The First Steps of Vajrayana":
Understand thoroughly the law of Causation
Observe the suffering of cyclic existence (Samsara)
Comprehend the joy that is free from suffering
Practice the Dharma toward liberation
Treasure the opportunity to practice the Dharma
And hence I wrote this Gatha.
Written in Chinese on February 3, 2012
Translated into English on March 22, 2015
El Cerrito, California
---