菩薩境界   林鈺堂       簡繁轉換 - 繁體
數十年來每日背誦的〈心經〉
近來才醒悟
其中明明宣示
菩薩的境界是
心無罣礙
遠離顛倒夢想
  (至於「究竟涅槃」乃佛陀之證入
   非吾等凡夫一時所能企及
   故且不論)
由此可見一再地說法及誦經
有其必要
當年玄奘法師想略去《大般若經》內之重複
韋馱菩薩教示他
眾生會在讀到哪一段時得悟
是不一定的
因此不宜省略
至於悟入菩薩境界
還是要靠行者自己的反省及醒覺
因為別人勸起來
總是難免淪為「爭執」的樣子
振振有詞的時候
在法理及事理上也沒人能說你錯
但是這樣的心態
是菩薩的「心無罣礙」嗎
解脫不是在「誰對誰錯」之內
而是超越了
不再為之所限
所以看到這樣也好 那樣也好
都可以
故謂之「普賢」
種種的見解
都難免有看不完全的偏頗
所以在菩薩看來
都屬「顛倒夢想」
行者若能遠離
才可望回復「本來清淨」的
單純心地與直接體驗
能不能放下道理與評論
就只待行者的醒覺了
否則一輩子都是你對
奈何做不到「心無罣礙」
就進不了菩薩境界
豈非太可惜了
      日前在說法中曾提及此,但也不知聽者及將來讀筆錄者能否悟入,
      所以再寫此篇,希望增加行者悟入菩薩境界之機緣。
                    二○一五年七月十一日
                    養和齋    於加州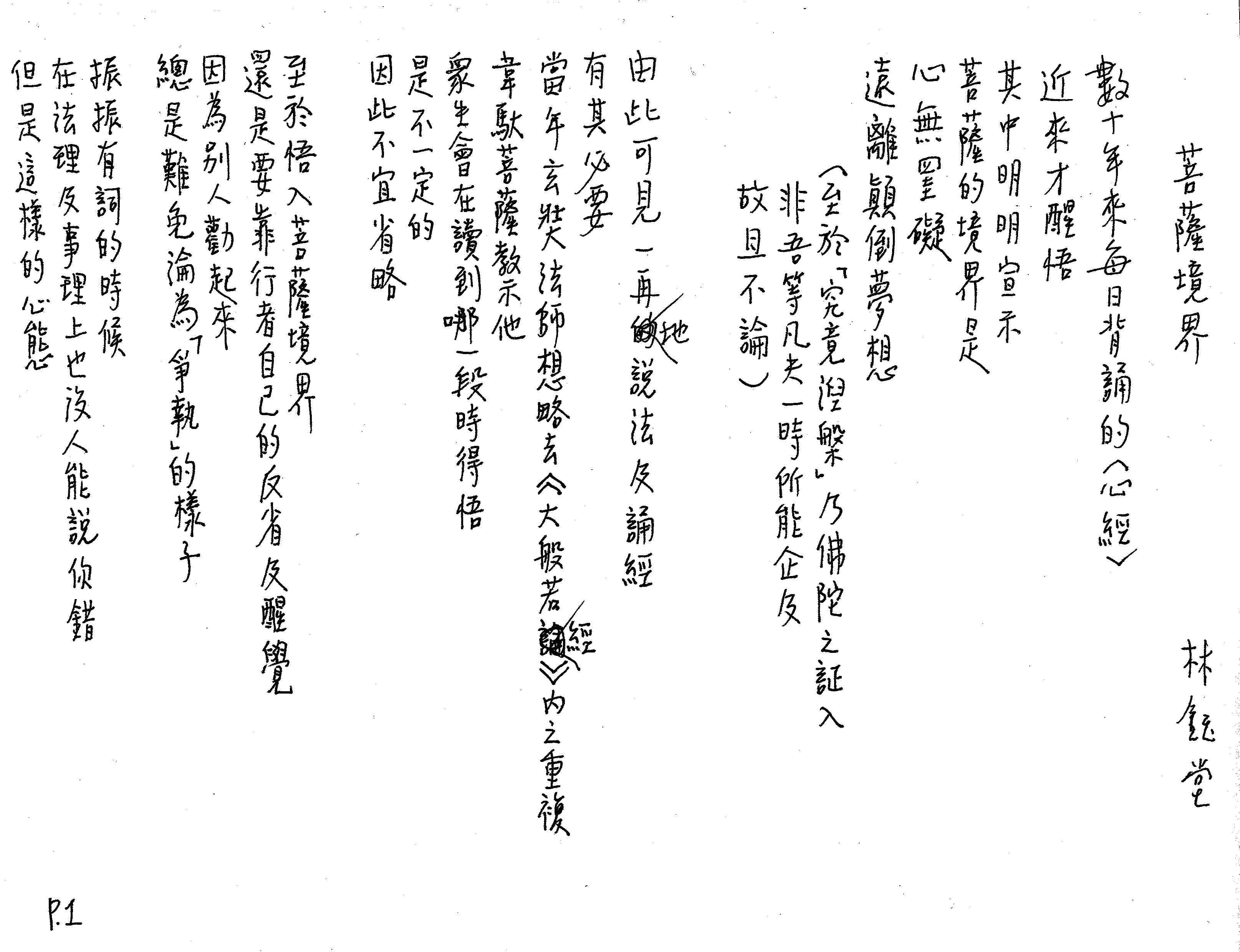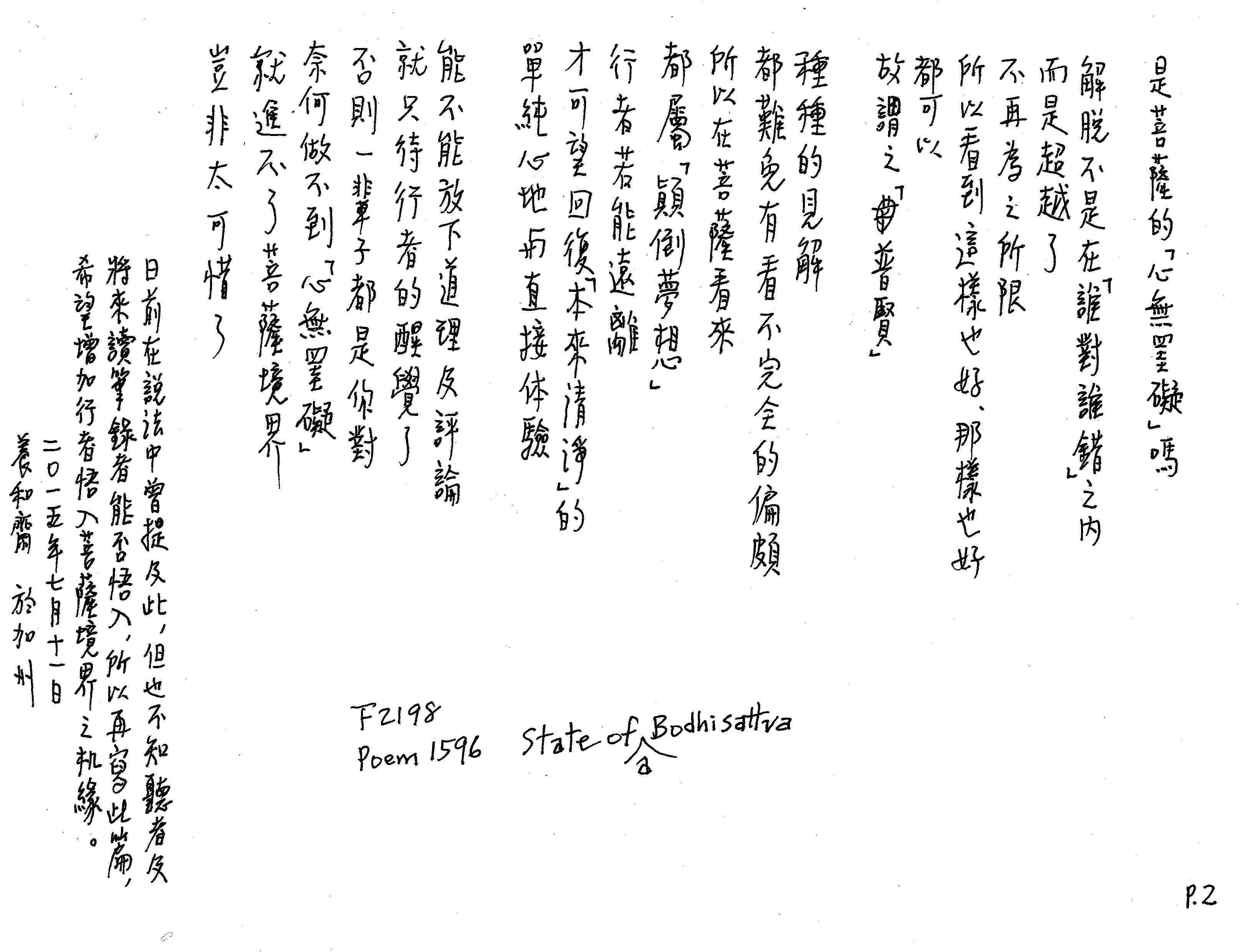 State of a Bodhisattva
Yutang Lin
For decades daily I recite from memory the Heart Sutra
Only recently I came to realize that
It is clearly pronounced therein that
The state of a Bodhisattva is such that
Mind has no attachment
Far away from perversive delusions
        (As to "realization of Nirvana" which is the attainment of Buddhas
         Not what we worldlings can expect to get near soon
         Hence not alluded further here)
Thus it is clear that repeatedly reciting Sutras and explaining Dharma teachings
Are needed and necessary
While the Grand Master Xuan Zang was pondering over omitting multiple repetitions
        in the Maha Prajnaparamita Sutra
Bodhisattva Wei Tuo taught him that
Whichever passage upon reading it a sentient being will gain insight is not certain
And hence it is not suitable to omit the repetitions
As to awakening into the state of Bodhisattva
It ultimately depends on a practitioner's own self-reflection and awakening
This is because whenever others are offering advices
It is hardly avoidable that it will deteriorate into the semblance of "arguing"
When one righteously puts forward one's reasons
Even though according to all reasoning no one can say that you are mistaken
Nevertheless, this kind of state of mind
Is it the "mind has no attachment" of a Bodhisattva
Liberation is not within the sphere of "who's right and who's wrong"
But a transcendence
No longer limited thereby
And hence one sees that this way is fine and that way is also fine
All are acceptable
Thus it is called "universal goodness" (or "Great Perfection")
All sorts of views
Can hardly avoid partiality due to a lack of panoramic sight
Hence to a Bodhisattva they are all
"Perversive delusions"
Only when a practitioner can stay far away from them
Can it be expected that the innocence of mind
And direct experiences of "original purity" will re-emerge
Whether one can renounce reasoning and criticism
It all depends on a practitioner's own awakening
Otherwise, all one's life one sustains that one is correct
And yet one could not realize "mind has no attachment"
Consequently, one cannot enter the state of a Bodhisattva
Wouldn't that be a real pity
Comments:
Days ago I mentioned this point in a talk I gave in Taipei, Taiwan. But I don't know if the audience or readers who will read the transcript could comprehend it. Hence, I wrote this article with the hope that it will increase opportunities for Dharma practitioners to awaken into the state of a Bodhisattva.
Written in Chinese and translated on July 11, 2015
El Cerrito, California
[Home][Back to list]