學佛日久忘成佛,蠅頭小事滿塞胸;
菩提祝願代問安,彼此提攜咸上進。
跋
學佛者易因目前種種事情之困擾而於不知不覺之間已將成佛列為次要、待理項目。遇事當如何抉擇、處理,亦因方針不明確,而陷於迷惑中。若能隨時記得以成佛為第一要務,則易分辨取捨而得以專志精進於佛道。因此,我把平日往來信件結尾之問安改為「祝早成佛!」願藉此菩提心願提醒彼此,皆以成佛為首要,而得以確立提昇生命的方針。
               二○○五年二月廿三日
               養和齋    於加州
---
---
----- Original Message -----
From: "Yutang Lin"
To: "Dharma Friends"
Sent: Sunday, April 22, 2007 12:00 PM
Subject: Four More Poems in Calligraphy_翰墨四首:祝早成佛、報眾生恩、不見自執、大同
Four more sets attached as requested by "Four Four."
由〝四四〞所提請的另一組四首詩附呈。
Attain Enlightenment Soon!
祝早成佛!
Yutang
鈺堂
---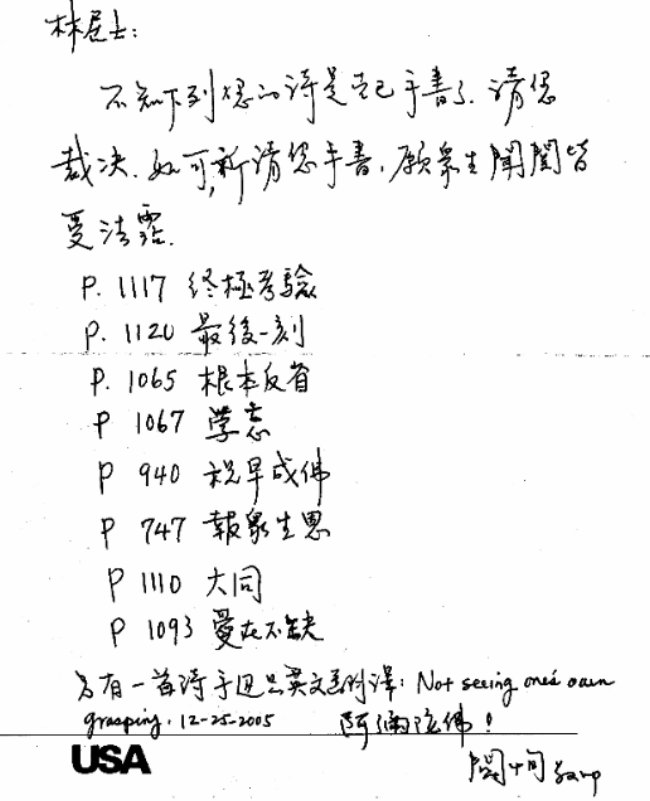 F1355 終極考驗  P1117 Ultimate Trial
F1359 最後一刻  P1120 The Very Last Moment
F1272 根本反省  P1065 Root Reflection
F1276 學忘    P1067 Learning to Forget
F1099 祝早成佛  P0940 Enlightenment Soon
F1259 報眾生恩  P1058 Gratitude Due to All Beings
F1338 大同    P1110 Much in Common
F1210 不見自執  P1019 Not Seeing One's Grasping
寫過 F1311 愛在不扶  P1093 Love in not Helping
---
Enlightenment Soon Yutang Lin
As days on the path accumulated the goal of attainment could be forgotten.
Trivial matters as huge in size as a fly's head fully preoccupied one's mind.
Well-wishing pointing at Bodhi is adopted in place of those usual greetings.
May mutual reminding and encouragement prompt all to advance upward!
Comment:
As one progressed on the Dharma path, due to all sorts of matters that besieged one from moment to moment, one could unknowingly have actually placed attainment of enlightenment as a matter of secondary importance that is to be dealt with later on. As matters arose how should one make choices and handle them is also puzzling due to the lack of a clear direction in life. If one could constantly remember to set attainment of enlightenment as the foremost priority, then it would become easy to make distinctions for preference and renunciation, and thereby one could concentrate on advancement on the path. Therefore, I had changed the greetings at the end of my daily correspondences to the well-wishing of "Attain Enlightenment Soon!" May the application of this Bodhi well-wishing serve to remind all of us to set attainment of enlightenment as our top priority, and thereby establish definitely a clear and uplifting direction for the remainder of our lives!
Written in Chinese and translated on February 23, 2005
El Cerrito, California
---
[Home][Back to list][Enlightenment Soon]